PLASTICS ADJUSTABLE SHOE SLOTS - PACK OF 3
---
Hurry, low quantity!Hurry! – Only 15 left in stock.
DESCRIPTION
 Too many shoes and don't know what to do? Get the shoe racks organizer!
 The shoes are messy, don't know which pair to wear?
Come get this new shoe slot and solve all your problems !!!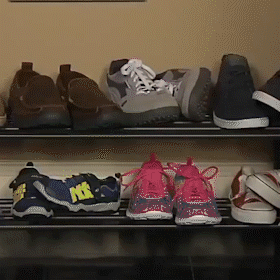 The double deck shoe rack design help saves 50% of your storage capacity immediately and helps you find the right shoes quickly, making your shoe closet and garderobe more tidy and orderly.
Features:-
DOUBLE-DECKER SHOE SLOTS-

 

These shoes organizers have a unique double-decker design which helps you save more shoes in the same limited space. This is an ideal purchase for people with multiple shoes or dorm students.
MAXIMIZE CLOSET SPACE-

 

These double-layer closet shoe organizers will help you maximize the space in your closet or shoe cabinet. Stacking up your shoes in this manner will free up more space so you can go nuts at the next shoe sale!
ADJUSTABLE HEIGHT-

 

These shoe slot organizers have an adjustable height feature that allows you to store any shoe from flip-flops and sneakers, to high heels and boots. Simply adjust the height of the shoe slots according to your needs.
DURABLE CONSTRUCTION-

 

These shoe rack organizers are made from premium quality plastic materials that will last you for a long time even with daily use. These shoe organizers are also very easy to clean- simply use soap and water.
REDUCE CLUTTER-

 

Reduce the clutter in your shoe cabinet or closet with these plastic shoe organizers. These shoe slots organizers will help tidy up your cupboards and help you look neat and tidy to others. Make everyone jealous of your organizational skills!
SPACE SAVING -The double deck shoe rack design help saves 50% of your storage capacity immediately and help you find the right shoes quickly, making your shoe closet and garderobe more tidy and orderly. The innovative design of the shoe slot accommodates twice the previous shoe and provides an excellent space-saving solution for the bedroom, wardrobe and shoe rack.
QUALITY MATERIAL -

 

The shoe stack is made of high-quality ABS and durable green non-toxic PP to ensure your health and protect the environment. The improved thickness makes the shoe slots organizer quite unlikely to be broken by heavy pressure or frequent use.
---
 Benefits
Good toughness, not easy to break :-

 

Products made of new materials are lighter in weight than the previous generation products, but the quality and flexibility are greatly improved. Both the weight and the occupied area have been improved, which can effectively save space and make your shoe rack look go up more neat. 
Easy to Use :-

 

Adjust the height of the shoe slots simply by the buckle to fit shoes of various heights. Note: If the two parts of the organizer happen to be apart, you can simple buckle them up firmly by hand.
Easily clean :-

 

The connection of shoe slots is removable. It is help us to clean it easily.
Anti-slipping Design :-

 

The non-slip design provides excellent grip for your shoes. The design of adjustable height fits high-heeled shoes.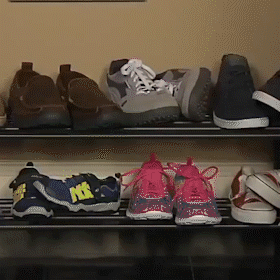 Quickly Install :-

 

Every shoe slots have two parts, just need to simple buckle them up firmly by hand.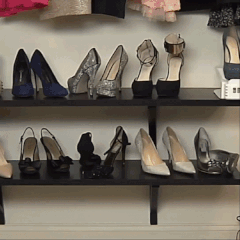 Suitable for Most Shoes :-

 

The shoe slots have 4 adjustable height, You can adjust from 3.3'',4.9'',6.1'' to 7.4'' according to the type of shoes, ensure not squeeze, destroy shoes, suitable for most children's shoes, sports shoes, slippers, flat shoes, sandals, high heels and so on.
Easy to Adjust :-

 

The shoe stacker is easy to adjust the height.If you want the top flat is more higher, just need to hold the upper and lower pieces and pull them to both sides. And if you want the tup flat more lower, need gently pull up the joint.
---
   How to Use :
Step 1 :-

 

Just adjust according to your footware.
---
 Perfectly Fit All Types of Shoes
---
  Frequently Asked Questions :

1. Will this adjustable shoe holder hold men's dress shoes?
A:  Yes, the work fine for men's dress shoes. I use them for my husband's size 11 1/2 dress shoes and even sneakers.
2. How many pairs will this set hold?
A: Each slot will hold a pair of shoes
3.

 Are these already assembled, or do you have to put them together?
A: Dear,Yes,they are assembled.
4. What is the Return Policy?
A:

 

We accept hassle free 7 days return policy. You can WhatsApp us on the  button on your right bottom of the screen.
5. What is the Shipping Time?
A: It is within 2 to 5 days. Order processing time is 24-48 hours.
6. Is Cash on Delivery Available?
A: Yes,  Cash on Delivery is always available.
---
REVIEWS
SHIPPING POLICY
Shipping Rate:

For Prepaid Orders: We charge no shipping and handling fee. Free shipping is included.

For COD Orders:  FREE Cash on Delivery .

Order Processing:

We strive to fulfill orders as soon as you place them. In most cases, your order will be sent to our delivery partner within 1-2 days. Our Business Days are Monday-Friday.

Shipping Times:

For most serviceable pin codes, we try to deliver within 7 days. But due to un-for-seen circumstances like weather, strikes, remote locations, stocking issues or any other reason - it may take longer. You will however be able to track your package using a unique tracking link that we will SMS/email you after the order is sent to our delivery partner.
People who bought this product also bought
You may also like these products