SELF STIRRING COFFEE MUG
---
Hurry, low quantity!Hurry! – Only 2 left in stock.
DESCRIPTION
IF FINDING A CLEAN TEASPOON SEEMS TOO TOUGH A TASK , THEN YOU NEED THE SELF STIR MUG!
These funky novelty cups have a self-stirring mechanism in the base which will whip your drink like a whirlwind at the push of a button.We've all had that feeling of getting to the bottom of your hot chocolate or soup and finding thick goop.This quirky gift will make sure your drink is mixed with enough powder or granules into the drink.
Features:-

 
Premium Quality

 

- 105mm in capacity, this coffee mug offers the best of the reputation for quality. Features an easily operable, efficient and long- lasting make.
Self-Stirring Technology: Features a fluid self-stirring technology that makes it different from any other self-stirring cup. A premium quality fluid motor works promptly upon the press of a button.
Super Durable Stainless Steel: Imagine that you are doing bussiness with a mug full of hot coffee in your hand. Sounds like a surprise waiting to happen. The cup's lid has a hole allows you to use a straw to sip coffee and others. When the mixing function is turning on, keep the lid closed and the solid cover can reduce any spillage. Moreover,the high grade silicone seal will secure your mug tightly to preserve the heat and coldness of your drink about 3 hours.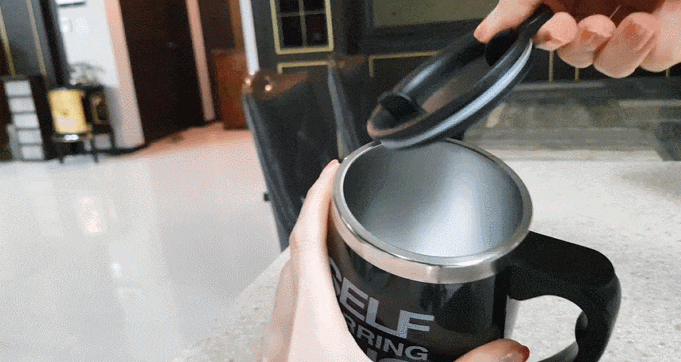 Rechargeable : Self Stirring Mug is really little more than a battery-powered motor that spins a propeller at the bottom of the mug. This auto stirring mug is sporting a ribbed exterior which helps in creating a comfortable grip, also a sturdy plastic exterior, making it easy to hold the mug because food-grade ABS plastic keeps your hands cool from hot liquids.   
Easy To Clean : Our stainless coffee mug can be used as a normal cup for drinking if you do not need stirring function. It's also easy to wash, but do not use a dishwasher or clean by full soaking.
Multi Purpose

 

- This self-stirring mug is the best way to stir and take your coffee. But if your favorite beverage is chocolate, tea or cocoa, it works great too. Suitable for both hot and cold drinks .
---
Benefits
Ideal Travel Mug -

 

Makes the perfect mug for travelling while sipping your morning coffee. Designed to work great when you're on-the-go. Packs 8 oz. of your favorite drink any time.
Looks  Great All The Way - Looks much better than the typical self-stirring mug. Features an appealing and authentic outer feel, calibrated by bright text and a sliver upper edge for the classic look.
No Sweat, No Hassle: Easy Operation While this mug looks great on any kitchen counter board or coffee table, its essence is to make work easier. More than the typical self-stirring coffee mug.
Switch Button And Automatic Mixing: We put the switch button exactly at the top of the hold, so it's easy to turn on and reach by your thumb. The handle itself is firm and comfy to grip.One key waterproof switch operation is simple,can effectively prevent the liquid into the switch.
Best Gift Idea

 

- A cute mug, a cute gift. A best gift for your families, friends and colleagues who love coffee, hot chocolate, protein powder or other beverages thatneed stirred. Giving the person you loved this mug, warm their hands, hearts and the whole life. Warmer self-stirring magnetic mug, warmer life! Perfect for home, office, travel, Father's day, Mother's day, Christmas gift, Thanksgiving day, Halloween, Black Friday, Cyber Monday, etc
---
How To Use
Step 1 : Insert battery in the mug
Step2: Simply

 

Once you've poured coffee and water or milk into the mug, all you need to do is 

press a button

. Then, the mug will automatically stir the liquids & this mug can also double up for mixing instant soups and tea with milk.
---
Frequently Asked Questions
1.Is it use to make coca?

A: Yes.
2. Is it reusable & easily washable?

A: Yes,reusable & easily washable.
3. What is the Return Policy?

A: We accept hassle free 7 days return policy. You can WhatsApp us on the button on your right bottom of the screen.

4. What is the Shipping Time?

A: It is within 2 to 5 days. Order processing time is 24-48 hours.

5. Is Cash on Delivery Available?

A: Yes, Cash on Delivery is always available.
REVIEWS
SHIPPING POLICY
Shipping Rate:

For Prepaid Orders: We charge no shipping and handling fee. Free shipping is included.

For COD Orders:  FREE Cash on Delivery .

Order Processing:

We strive to fulfill orders as soon as you place them. In most cases, your order will be sent to our delivery partner within 1-2 days. Our Business Days are Monday-Friday.

Shipping Times:

For most serviceable pin codes, we try to deliver within 7 days. But due to un-for-seen circumstances like weather, strikes, remote locations, stocking issues or any other reason - it may take longer. You will however be able to track your package using a unique tracking link that we will SMS/email you after the order is sent to our delivery partner.
People who bought this product also bought
You may also like these products