SILICON FOOD COVERS - PACK OF 6
---
Hurry, low quantity!Hurry! – Only 4 left in stock.
DESCRIPTION
LEFTOVER FOOD CAUSING YOU A HEADACHE? PRESERVE THEIR FRESHNESS AND FORGET ABOUT USING AWFUL PLASTIC WRAP…
Your Food is now Fresh and Protected!
Introducing our Premium Silicon Food Covers. Made with high quality food grade silicone, these reusable lids will be the most eco-friendly addition to your kitchen! This 6 pcs set provides you with lids of different sizes that are very stretchy so they can easily cover any food container, from salad bowls, and mugs, to cups and jars.
Features :
Premium Food Grade Material- Silicone Lids are made of eco-friendly food grade silicone, are 100% BPA-Free, odorless and non-toxic. Safe for direct contact with food and are reusable. This will be a perfect replacement for your long-lost container lids as well as converting any regular bowl to an on-the-go container.
          Tip: For best user experience, please make sure that the container size does not            exceed the maximum stretch size and that both lid and container edges are dry!
Multiple Uses & Super Practical- Silicon Food Covers are great for storing leftovers, taking dishes to potlucks, stacking bowls, and covering unfinished drinks & even leftover fruits and vegetables! Easily create a perfect seal on glass, plastic or metal containers to keep food fresh.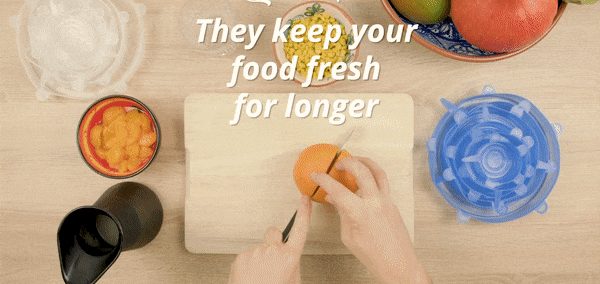 Easy to Use & Durable- These incredibly durable lids are rated at -40 C (-40 F) to 232 C (450 F). They are refrigerator and microwave safe, and maintain their form ensuring long-lasting use. Each stretchable lid comes with 5 grips around the outer edge for ease of use. You will never regret making the switch from plastic to Silicon Food Covers!
Good Sealing - The inner ring is anti-skid, with good adsorption performance. So our stretch lids have a better leak-proof effect and make your food stay fresh much longer.
Benefits :
Environmentally Friendly & Reusable- Using Silicon Food Covers, you will save money and the planet as there is no need to repeatedly purchase expensive plastic wrap! Silicon Food Covers are reusable, washable and easily cleaned.
          Tip: Dishwasher safe, but avoid using abrasive or force-foam cleaners.
Cover Anything- Leftover food? Don't throw it away! Simply cover it with these silicone lids and it will stay fresh until you get hungry again! The silicone food saver lids can be used to cover cooked food, fruit, salads, sauces, as well as drinks like coffee, tea, juice and more.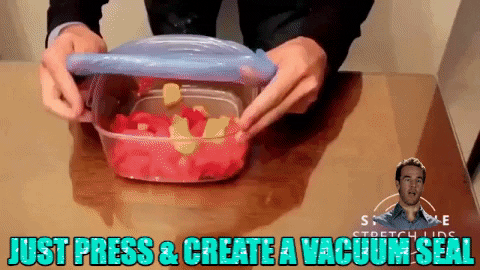 Fit for All shapes and Sizes- The set includes 6 silicone covers in various sizes. Thanks to their stretchable material, the food lids will easily fit most bowls, pots, containers, mugs, cups, cans, jars, and you can even use them to cover your half-cut melon or watermelon.
How to use:
Step 1: Choose the appropriate size of lid for your container.
Step 2: Pull the lid over the container opening and use the tabs to adjust the fitting.
Step 3: Once removed, wash the lids with warm soapy water then dry and reuse!
Top Customer Reviews


Frequently Asked Questions :
1. Where it is made?
A: It is made in India product.
2. What is the Return Policy?
A: We accept hassle free 7 days return policy. You can WhatsApp us on the  button on your right bottom of the screen.
3. What is the Shipping Time?
A: It is within 2 to 5 days. Order processing time is 24-48 hours.
4. Is Cash on Delivery Available?
A: Yes,  Cash on Delivery is always available. 
REVIEWS
SHIPPING POLICY
Shipping Rate:

For Prepaid Orders: We charge no shipping and handling fee. Free shipping is included.

For COD Orders:  FREE Cash on Delivery .

Order Processing:

We strive to fulfill orders as soon as you place them. In most cases, your order will be sent to our delivery partner within 1-2 days. Our Business Days are Monday-Friday.

Shipping Times:

For most serviceable pin codes, we try to deliver within 7 days. But due to un-for-seen circumstances like weather, strikes, remote locations, stocking issues or any other reason - it may take longer. You will however be able to track your package using a unique tracking link that we will SMS/email you after the order is sent to our delivery partner.
People who bought this product also bought
You may also like these products